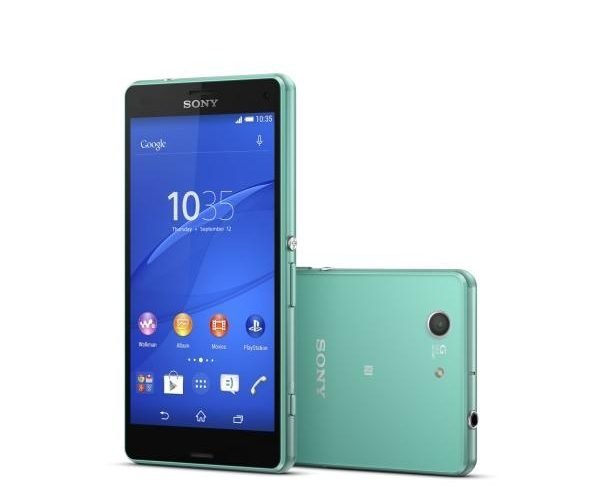 Sony sets a new standard for the flagship smartphone experience with Xperia™ Z3 and Xperia™ Z3 Compact
3rd September 2014, IFA, Berlin – Sony Mobile Communications ("Sony Mobile") today introduces its new Xperia™ Z series flagship smartphones – Xperia Z3 and Xperia Z3 Compact. Whether it's with a brilliant 5.2" flagship smartphone or the compact 4.6" form factor, both premium smartphones combine all of the details that make Xperia smartphones great – including the highest level of waterproofing3, enhanced camera experiences and applications, up to two-day battery life4, our best audio quality and PS4™ Remote Play2.
"At Sony Mobile, 'flagship' now means offering a choice to consumers of enjoying a large screen Xperia Z3 for immersive entertainment or a more compact, lighter Xperia Z3 Compact that doesn't ask you to compromise on features," says Kunimasa Suzuki, President & CEO, Sony Mobile Communications. "Consumers demand and deserve greatness from their smartphone – in design, camera and battery life. That's precisely what we aim to deliver with Xperia Z3 and Xperia Z3 Compact, at the same time as delivering leading innovations such as unique Sony camera experiences and, for the first time, PS4 Remote Play in two beautifully designed, fully waterproof smartphones."
A fusion of engineering and design
Xperia Z3 blends design and engineering craftsmanship to deliver beauty that will stand the test of time. Its 7.3mm super-slim rounded aluminium frame and durable tempered glass panels showcases superior craftsmanship that is available in your choice of a new range of colours including white, black, copper or silver green . At just 152 grams with an easy-to-use interface and symmetrical design, it feels right at home in your hand.
For those who prefer a compact smartphone, Xperia Z3 Compact's rounded liquid reflection frame with tempered glass panels gives it and elegant, premium finish. The only smartphone to deliver uncompromised performance in a beautifully compact design that is just 8.6mm thick and 129 grams, Xperia Z3 Compact's design is perfect for one-handed use. Enjoy bold style with Xperia Z3 Compact's unique colour range including orange and green, in addition to the classic white and black.
Delivering the highest waterproof rating, both are fully waterproof3 (IP 65/68), so you can take your Xperia Z3 or Xperia Z3 Compact with you wherever you go – whether you're answering a call in the rain or taking pictures in the pool.
Beautiful design is matched with powerful performance thanks to the fully integrated Qualcomm® Snapdragon™ 801 processor with 2.5 GHz quad-core CPU with 4G LTE modem for lightning fast browsing, immersive multimedia experiences and stunning visuals.
Plus, there's no need to worry about your smartphone being ready when you are – with optimal battery performance, Xperia Z3 and Xperia Z3 Compact push the capabilities of power to give you a long-lasting battery life of up to two days4. Or, get even more from your battery with Sony's Battery STAMINA Mode, which turns off background functions when you're not using them to help extend your battery life.
The world's best camera and camcorder in a smartphone1
Capture the moments that matter in the highest quality with stunning detail – anytime, anywhere. Drawing on years of expertise from Sony's award-winning Cyber-shot™ and Handycam™ technologies, Xperia Z3 and Xperia Z3 Compact deliver superior image quality whether it's in low-light, on the move or even underwater.
The 1/2.3" ExmorRS™ for mobile sensor and BIONZ™ for mobile processing engine work together to give you photos and videos in sharp and vivid detail. Plus, you can fit more into every shot with the new 25mm wide-angle Sony G Lens. If you're capturing a photo of a stunning sunset, take advantage of the world's first ISO 12800 sensitivity in a smartphone5 for better detail, even in low light.
Shooting a video? Sony's new and improved SteadyShot™ technology with Intelligent Active Mode compensates for your movements, analysing dozens of backwards and forward frames, to predict your next steps and make panning smoother and images more stable.
For those most important memories, record clips in super-clear 4K resolution at four times Full HD. Plus, the advanced video mode on Xperia Z3 and Xperia Z3 Compact means you can pause and resume filming, so you can be sure to capture the perfect moment in one file.
New social camera apps and editing features will take your camera experience to the next level. Capture an event and your reaction to it at the same time with Face in. Add scribbles and animations to pictures with AR fun. Create a movie from your photos and videos with Movie creator. Record from multiple angles with up to three compatible Xperia devices filming at the same time with Multi-camera. Or add sound to a photo with Sound Photo.
All of these new camera apps are added to a wide range of popular Xperia camera apps accessible directly from your camera's viewfinder, including Background defocus, Live on YouTube – by Xperia™ and Timeshift video.
Tune in with an audio powerhouse
The mobile music experience just got re-invented. Sony's rich audio expertise comes through in every beat with incredible High-Resolution Audio, so you can hear every track just as the artist intended when using Hi-Res Audio headphones such as Sony's new MDR-1A range. For those tracks that aren't in Hi-Res quality, Sony's ground-breaking DSEE HX technology – available now for the first time in our Z3 series – 'upscales' the fidelity of your MP3 or AAC music collection as well as your playlists on Sony's cloud-based digital music service, Music Unlimited8, to near High-Resolution quality.
To enjoy your favourite music without interruption, the Xperia Z3 series brings Sony's Digital Noise Cancelling technology to the smartphone. Ambient noise is reduced by up to 98% when paired with the MDR-NC31EM Digital Noise Cancelling headset – perfect for that busy commute or tuning out the background in a noisy office.
The front-facing stereo speakers with S-Force Front Surround™ play everything loud and crystal clear for those moments when you want to set your sounds free.
Unrivalled entertainment with the only smartphones with PS4™ Remote Play2
Sony has engineered a revolution in gaming technology with the addition of PS4™ Remote Play on the Xperia Z3 series. The only smartphones with PS4 Remote Play, you can now use your Xperia Z3 or Xperia Z3 Compact as a remote screen to connect to and control your games on PS4. For those times when the TV is being used, simply connect your Xperia smartphone to your PS4 via home Wi-Fi and use the DUALSHOCK®4 Wireless Controller with the GCM10 Game Control Mount to continue playing games anywhere at home on Xperia Z3 and Xperia Z3 Compact.
Additionally, the PlayStation®App lets you use your Xperia Z3 or Xperia Z3 Compact as a second screen to remotely watch the game play of your friends, communicate with PSN™ friends, or purchase PS4 games and download to PS4.
The world's brightest display of leading premium smartphones9
Whether you're playing a game or watching a movie, your entertainment is enhanced with Sony's latest TV technologies. With an ultra-bright display, both smartphones deliver a visual brilliance for a truly great entertainment experience. Combined with Sony's TRILUMINOS™ Display for mobile with Live Colour LED, X-Reality for mobile and intuitive contrast enhancement, both Xperia Z3's 5.2" Full HD display and the 4.6" 720p HD display on Xperia Z3 Compact are sharp and vivid even in bright sunlight.
Convenient connectivity and security
Switching to Sony has never been easier. Just open up the Xperia Transfer Mobile app and a few simple actions later, all of your existing music, photos, contacts and more from your old Android, iOS or Windows smartphone will be ready and waiting for you on your new Xperia.
With NFC compatibility it's even easier to connect devices and share with more than 160 Sony One-touch enabled products – such as headphones, TVs and SmartWear including the new SmartBand Talk SWR30.
Bringing Your Own Device to work? It couldn't be easier. Work from anywhere with the advanced Xperia Email, Calendar and Contacts apps, which can be synced using Microsoft® Exchange ActiveSync® (EAS) and use your favourite business apps from the Android community. And for those switching between work and play, Xperia Z3 is also available in a Dual SIM variant in select markets so you keep both accounts running in one sleek smartphone.
Xperia Z3 and Xperia Z3 Compact will launch globally from autumn 2014.
For the full specifications of Xperia Z3, please visit: http://www.sonymobile.com/global-en/products/phones/xperia-z3/specifications/
For the full specifications of Xperia Z3 Compact, please visit: http://www.sonymobile.com/global-en/products/phones/xperia-z3-compact/specifications/
– ENDS –
FOR MEDIA INFORMATION PLEASE CONTACT:
For more information, images and videos please visit: http://blogs.sonymobile.com/category/press-releases
Sony Mobile Communications, Global Communications & PR department
General Press: +44 208 762 5858
About Sony Mobile Communications
Sony Mobile Communications is a subsidiary of Tokyo-based Sony Corporation, a leading global innovator of audio, video, game, communications, key device and information technology products for both the consumer and professional markets. With its music, pictures, computer entertainment and online businesses, Sony is uniquely positioned to be the leading electronics and entertainment company in the world. Through its Xperia™ smartphone and tablet portfolio, as well as innovative SmartWear products, Sony Mobile Communications delivers the best of Sony technology, premium content and services, and easy connectivity to Sony's world of networked entertainment experiences. For more information: www.sonymobile.com
Legal
1) Facts and features may vary depending on local variant. 2) Operational times are affected by network preferences, type of SIM card, connected accessories and various activities e.g. playing games. Kit contents and colour options may differ from market to market. The full range of accessories may not be available in every market. 3) Icons displayed are for illustrative purposes only. The homescreen may appear different in your product. Some features may not be available in your country or area.
"SONY" is a registered trademark of Sony Corporation. "Xperia" is a trademark or registered trademark of Sony Mobile Communications Inc. All other trademarks or registered trademarks are the property of their respective owners. Additional information regarding trademarks may be located on our website at: www.sonymobile.com/global-en/legal/trademarks-and-copyright
About Sony Computer Entertainment Europe Ltd
Sony Computer Entertainment Europe (SCEE), based in London, is responsible for the distribution, marketing and sales of PlayStation®4 (PS4®) computer entertainment system, PlayStation®Vita (PS Vita) portable entertainment system, PlayStation®3 (PS3®) computer entertainment system, PSP™ (PlayStation®Portable) handheld entertainment system and PSN software and hardware in 109 territories across Europe, the Middle East, Africa and Oceania. SCEE has revolutionised home entertainment since they launched PlayStation® in 1994. PlayStation®4 redefines rich and immersive gameplay with powerful graphics and speed, intelligent personalisation and deeply integrated social capabilities. PS Vita is an ultimate portable entertainment system that offers a revolutionary combination of rich gaming and social connectivity within a real world context. PS3® is an advanced computer system, incorporating the powerful Cell Broadband Engine and RSX processors. PSP® is a handheld entertainment system that allows users to enjoy 3D games with high-quality full-motion video and high-fidelity stereo audio. SCEE also delivers the PlayStation® experience to open operating systems through PlayStation®Mobile, a cross device platform. SCEE also develops, publishes, markets and distributes entertainment software for these formats, and manages the third party licensing programs for the formats in these territories.
More information about PlayStation® products can be found at www.playstation.com.
PlayStation®, PS4, PS3, PS2 and PSP are registered trademarks or trademarks of Sony Computer Entertainment Inc. All other trademarks are property of their respective owners.