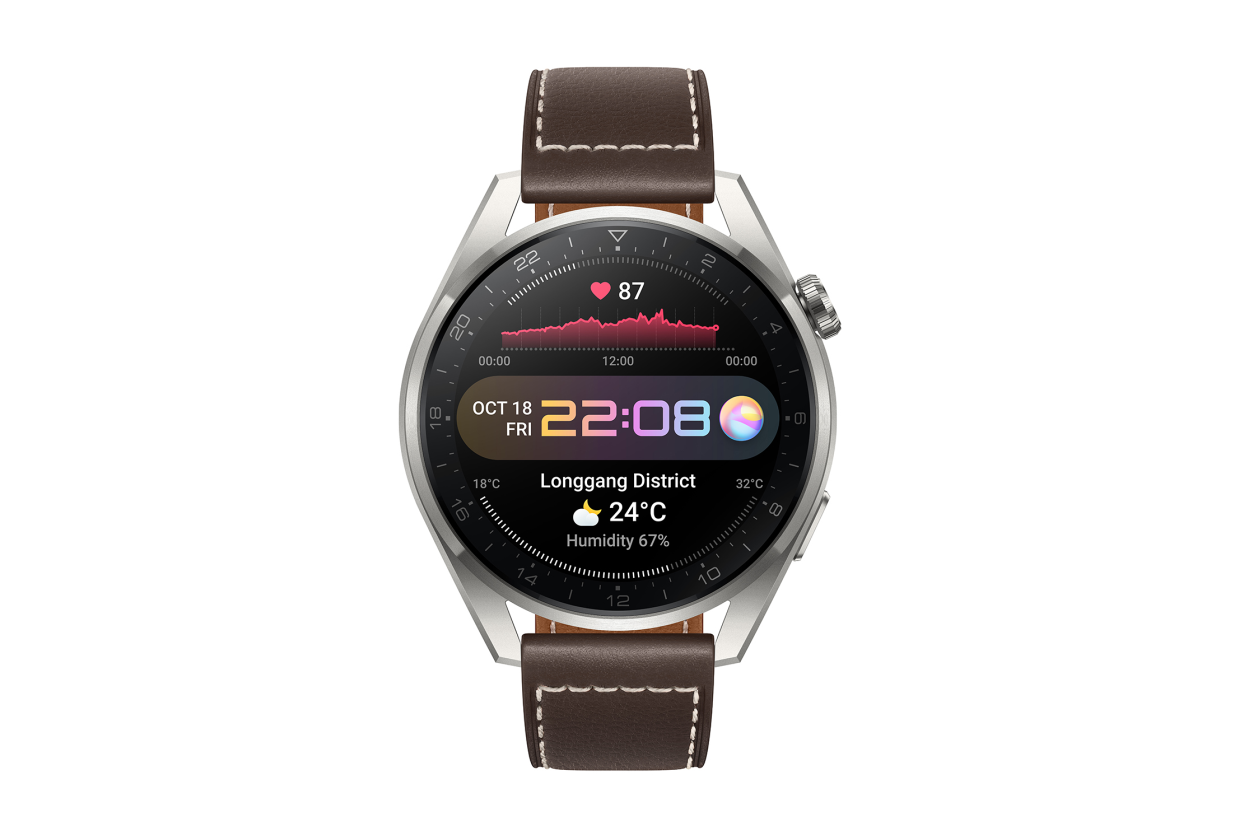 Enjoy the flow of time more beautifully than ever
With a titanium frame and sapphire glass, the HUAWEI WATCH 3 Pro gives you a professional look for every second of the day. Thanks to the large, extremely live AMOLED 1.43 "screen, you can enjoy every hour of your daily life.
Life in a More Premium Dimension
The HUAWEI WATCH 3 Pro is equipped with a dual chipset architecture to not only enhance performance but also achieve more balanced processing. Enjoy 5 days of battery life in Smart Mode and an incredible 21 days of use in Ultra-Long Battery Mode.
The facades you have always been looking for
HUAWEI WATCH 3 Pro has pre-installed faces, including animations to really bring things to life. There are 1,000+ designs available on the HUAWEI Watch Face Store. You can also DIY your own watches.
Smart Interaction
Applications are where the HUAWEI WATCH 3 Pro goes full flow. Organized in a clean, simple grid screen navigation, the interaction with each application is completely natural and smooth.
Have More Fun
with Apps Download applications directly to HUAWEI WATCH 3 Pro via HUAWEI WATCH 3 Pro via HUAWEI AppGallery on your HUAWEI internal app market. Find third-party applications for music, fitness, everyday tools, travel, etc.
eSIM Cellular Calling
Using eSIM9 technology, the HUAWEI WATCH 3 Series operates as a standalone communication device. Make calls, play music, and download apps without being connected to your phone.
All-day monitoring of SpO2
Get to know your Sp02 instantly with TruSeen TM4.5 +, which uses advanced light technology to accurately detect light molecules to accurately detect oxygen molecules in the blood, even at low temperatures and high altitudes. And with the lower power consumption of TruSeenTM 4.5+, you will be able to monitor the oxygen levels in your blood around the clock.
The next step of your own Health
See the daily and weekly recording of your number of steps, activity periods, calories burned, sleep quality, stress levels.
Skin temperature detector
Use the skin temperature detector6 in the HUAWEI WATCH 3 Pro series and find out immediately if your temperature is high. Take care of your health so that you can always take care of yourself in the best possible way.
Sound under control
Enjoy your favorite music on your phone with the HUAWEI WATCH 3 Pro series and synchronize playlists on your phone with speakers.
100+ Training Items
A fully functional fitness detector on your wrist. Get 100+ training modes – 19 professional modes, for indoor and outdoor sports and 85 custom modes, with automatic exercise detection for the 6 most common types of training. View all your health data clearly displayed in the HUAWEI health app on your phone and enjoy superior outdoor tracking with the GNSS multi-way position sensor.
Drop Detection and SOS Emergency Button
If the HUAWI WATCH 3 Pro detects a fall, it immediately goes into emergency mode and notifies your specified contact. Alternatively, press the up button 5 times and send an emergency call immediately.