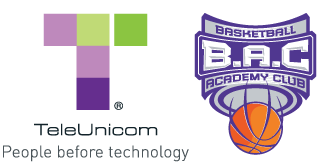 Completion of Partnership | Teleunicom – Teleunicom B.A.C.
Athens 27/7/2020
TeleUnicom SA announces the completion of its partnership with the Basketball Academy Club (B.A.C.). The company has been a constant companion of the efforts and successes of the Academy since 2008 and has actively supported the Academy so that the B.A.C. could give its athletes the experiences of games, tournaments and events.
The Academy as a sign of the appreciation of the support of the company for 11 years will maintain, with honor, the name TELEUNICOM B.A.C. on the team jersey, as with this name it has associated its great successes since its foundation.
The President of the Academy, Mr. George Reginas, stated: "The support of Teleunicom company all these years is an integral chapter of the history of the Academy. We warmly thank Teleunicom and the Managing Director of the company Mr. Vassilis Papadopoulos for his love for the sport of basketball, as well as for what he offered us. Our partnership will not be renewed for the next season, but the least we can do to thank Teleunicom is to keep the team name unchanged."